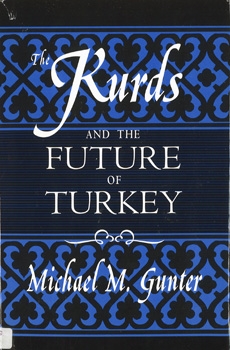 The Kurds and the Future of Turkey

Michael M. Gunter

St. Martin's Press

In his previous books and journal articles, Michael Gunter provided readers with two of the first analyses in English of the Kurdish problem in Turkey. In The Kurds and the Future of Turkey, he returns to the subject to look at the status of the Kurds now and what their future might be. Since August 1984, Turkey has suffered from an increasingly virulent guerrilla/terrorist insurgency led by the Partiya Karkaren Kurdistan (PKK), or Kurdistan Workers Party, headed by Abdullah Ocalan. By the summer of 1996, more than 20,000 people had been killed and, by the admission of the Turkish government itself, another 2,000,000 internally displaced and more than 2,000 villages destroyed. At present, the Kurdish problem in Turkey threatens to challenge the very future of the country itself. In The Kurds and the Future of Turkey, Gunter looks at the way in which the current Turkish government is dealing with the problem, analyzes the role of what he calls the authoritarian tradition in Turkey, and puzzles over the seeming inability of Turkey to take the final steps toward becoming a genuine democracy. He focuses on the PKK and its longtime leader, traces the Kurdish struggle as it has developed in Turkey since the publication of his last work, and looks at the roles of Syria, Iraq, Iran, and Western Europe. He concludes by looking at the future of the country and offers a solution that will allow the country to remain whole. Informed by extensive research done in Turkey up to and during the time that the U.S. State Department temporarily banned U.S. citizens' travel to the southeast section of that country, Gunter's masterly analysis and proffered solution is necessary reading for anyone interested in Turkey and its troubling problem.


---

Michael M. Gunter is a Professor of Political Science at Tennessee Technological University and a former Senior Fulbright Lecturer in International Relations in Turkey. His previous publications include The Kurds of Iraq (SMP, 1992) and The Kurds in Turkey, as well as numerous articles.