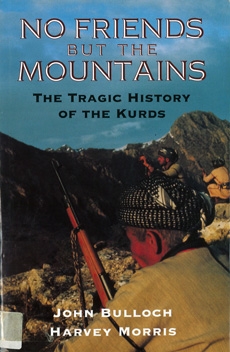 No Friends but the Mountains

John Bulloch,
Harvey Morris

Viking
Penguin Books Ltd

The allied assault to free Kuwait from Iraqi domination was supposed to herald a new world order in which the United States and the Soviet Union would together maintain the peace and protect minorities. It failed the first test when the Shia of southern Iraq and the Kurds in the north of the country responded to what they believed had been a call from President Bush to overthrow the tyrant Saddam Hussein. They rose up against their oppressor and waited for the help they expected. But nothing happened, and only the anger of people around the world forced governments to act as the Kurds fled retribution in one of the greatest mass migrations of modern times.

For the Kurds, it was one more betrayal in a long series of disappointments. Spread over five countries, numbering some sixteen million, they have always been divided among themselves, exploited by rival rulers who have used them as border troops, guerrilla fighters in a war with history. They were pawns in the struggle when the Ottomans and Safavids vied for control of their vital middle lands; they were in the thick of the battles as the Ottomans and Arabs sought domination; and they saw their best hope of statehood disappear after they had heeded the Sultan's call for a jihad in World War I.

President Woodrow Wilson promised them their country in 1918, but the British and French, abetted by emergent Turkey, frustrated the liberal American idea. Revolts and insurrections followed in Iraq, Iran and Turkey, savagely ...


---

John Bulloch is a frequent writer and broadcaster on the Middle East, and has written a number of books on the area. He lived in Beirut as Middle East correspondent of the Daily Telegraph, and has been diplomatic correspondent of the BBC World Service, Middle East editor of the Independent, and diplomatic editor of the Independent on Sunday.

Harvey Morris worked on local newspapers after leaving university, then joined Reuters news agency, and was chief correspondent in Tehran in 1979 and in Beirut in 1980. He joined the Independent when the paper was founded in 1986, first as an assistant foreign editor, then becoming Middle East editor, and is now deputy foreign editor.

Bulloch and Morris have previously collaborated in writing The Gulf War: The History of the Iran-Iraq Conflict, and the bestselling Saddam's War: The Iraqi Invasion of Kuwait and the International Response.