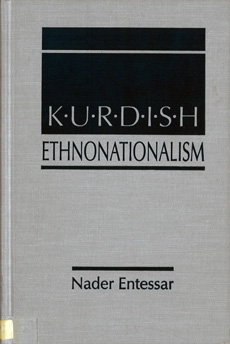 Kurdish Ethnonationalism

Nader Entessar

Lynne Rienner Publishers

Kurdish nationalism has long been a source of instability, intercommunal conflict, and ethnic strife in the Middle East, and demands for Kurdish self- determination have grown increasingly frequent and loud. Nader Entessar explores the nature of Kurdish solidarity, the reasons for its political activation in recent years, and the policies that have been adopted in response to it.

After providing a historical context, Entessar analyzes the political, social, and legal dimensions of Kurdish integration into the mainstream of sociopolitical life in Iran, Iraq, and Turkey. How have these countries handled the phenomenon of Kurdish ethnonationalism? How has this phenomenon affected the nationstate system in the Middle East? Do state policies aimed at, variously, assimilation, pluralism, or segregation succeed in achieving multi-ethnic harmony? The impact of international events since the 1970s—e.g., the Iran-Iraq war—on the plight of the Kurds is also considered. In the final chapter of this balanced and well-grounded study, Entessar looks to the future of Kurdistan.


---

Nader Entessar is professor of political science and international relations, and chair of the Social Science Division at Spring Hill College.