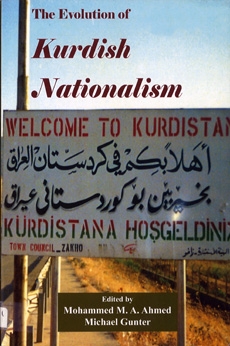 The Evolution of Kurdish Nationalism

Mohammed M. A. Ahmed
Michael M. Gunter

Mazda Publishers

In the past decade, Kurdish nationalism has begun to evolve dramatically in ways that are affecting both the Middle East and international politics. For example,' Kurdish; nationalism is profoundly affecting the-future of Iraq and therefore the foreign policies of not only the United States but also such regional states, as Turkey, Iran, Syria, and Saudi Arabia. All these states see the development of Iraqi Kurdish nationalism as challenging their territorial integrity. Kurdish nationalism is also profoundly influencing Turkey's candidacy for membership in the European Union (EU), Turkish membership in the EU has major implications for the future of European and international politics.

The purpose of this collection of tightly integrated essays written by recognized experts in the field is to trace systematically the evolution of Kurdish nationalism in Turkey, Iraq, Iran, and Syria to its present stage of geostrategic importance. There is no other work that deals with this current situation. Thus, this, work will be distinctive and original.