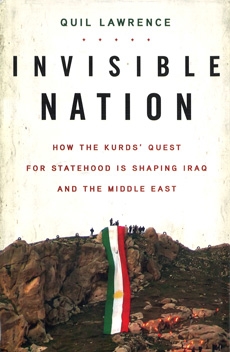 Invisible Nation

Quil Lawrence

Walker & Company

The dramatic story of the Kurds and their quest to create a nation, which in many ways will determine how the turmoil in Iraq plays out.

The American invasion of Iraq has been a success—for the Kurds. Kurdistan is an invisible nation, and the Kurds are the largest ethnic group on earth without a homeland, comprising some 25 million moderate Sunni Muslims living in the area around the borders of Turkey, Iran, Iraq, and Syria. Through a history dating back to biblical times, they have endured persecution and betrayal, surviving only through stubborn compromise with greater powers. They have consistently yearned for official statehood, and now, as one of the accidental outcomes of its invasion of Iraq, the United States may have helped them take a huge step toward that goal.

As Quil Lawrence relates in his fascinating and timely study of the Kurds, while their ambition and determination grow apace, their future will be largely dependent on whether America values a budding democracy in the region, or decides to yet again sacrifice the Kurds in the name of political expediency. Either way, the Kurdish north may well prove to be the defining battleground in Iraq as the country struggles to hold itself together.

At this extraordinary moment in the saga of Kurdistan, informed by his deep knowledge of the people and the region, Lawrence's intimate and unflinching portrait of the Kurds and their heretofore quixotic quest—their long history mingling with the controversy and complex realities of the present—offers a vital and original lens through which to contemplate the future of Iraq and the surrounding Middle East.


---

Quil Lawrence is the Middle East correspondent for BBC/PRI's The World, and has spent much of the last seven years in Iraq and Kurdistan. He has reported for National Public Radio, the Los Angeles Times, and the Christian Science Monitor, and has won awards for his reporting from Colombia, Sudan, and Iraq. This is his first book.