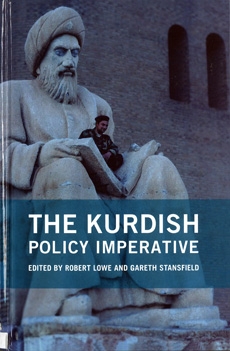 The Kurdish Policy Imperative

Robert Lowe,
Gareth Stansfield

Chatham House

Kurdish politics may no longer be dismissed as the isolated grumblings of tribal militias or leftist insurgents. Events in the past 40 years have transformed the profile and potency of the Kurds, whose influence is critical to the future of Iran, Iraq, Syria and Turkey. Kurdish social and political dynamism affects these key states to the extent that managing the 'rise of Kurdistan' has become an enduring feature of Middle East politics.

Kurds have been treated solely as 'problems' within established states, but the rise of Kurdish ethno-nationalism has quickened the cross-border currents of Kurdish politics and society. The complex regional interplay of Kurdish groups, state actors and geopolitical interests make it imperative for governments to consider the Kurds in their foreign policy towards the Middle East.
Major strides in Kurdish studies have been made in recent years. This book brings together leading scholars to analyse critical aspects of Kurdish politics in Iran, Iraq, Syria and Turkey and examine how these intertwine with wider regional and international concerns.


---

Robert Lowe is Programme Manager and Research Fellow, Middle East and North Africa Programme, Chatham House and an Honorary Research Fellow of the Institute of Arab and Islamic Studies, University of Exeter. He is currently completing a Leverhulme Research Fellowship on Kurdish politics and identity in Syria and the trans-state impact of Kurdish politics. He is the author of 'Kurdish Nationalism in Syria', in M. Ahmed and M. Gunter (eds), The Evolution of Kurdish Nationalism (2007) and The Syrian Kurds: A People Discovered (2006).

Gareth Stansfield is Professor of Middle East Politics and Director of the Institute of Arab and Islamic Studies at the University of Exeter, where he co-founded the Centre for Kurdish Studies. He is also an Associate Fellow of the Middle East and North Africa Programme at Chatham House, and an Associate Fellow of the University of Pennsylvania's Program on Ethnic Conflict (PPEC). Professor Stansfield has worked extensively on Kurdish political developments, particularly with reference to Iraq, since 1996 when he was based in Erbil and Suleimaniyah. He has published extensively on Kurdish and Iraqi politics; his most recent books are Iraq: People, History, Politics (2007) and Crisis in Kirkuk: The Ethnopolitics of Conflict and Compromise (with Liam Anderson, 2009).