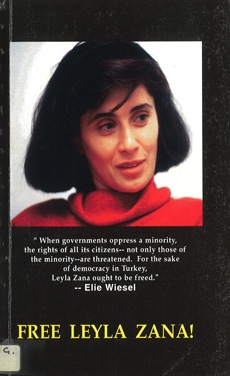 Free Leyla Zana!

AKIN & HRA

Compte d'auteur

Leyla Zana was born in Diyarbakir, Turkish Kurdistan in 1961.
At the age of 15, she was forced to marry her father's cousin, Mehdi Zana.
Years later, commenting on her marriage, she said:

"I don't blame my family or my husband, rather I blame the social conditions. These must be changed."
In October 1991, she ran for a seat in the Turkish Parliament to represent her hometown of Diyarbakir.
She received approximately 41,000 votes, or 84 % of the total vote.

She became the first Kurd to break the ban on the Kurdish language in the Turkish Parliament, for which she was later tried and convicted of treason. She had uttered the following words:
"I am taking this [constitutional] oath for the brotherhood of the Turkish and Kurdish peoples."

On May 17, 1993, she and her colleague Ahmet Turk addressed members of the Helsinki Commission of the United States Congress. Their testimony was used against her in the court of law.
On March 2, 1994, colleagues in the Turkish Parliament revoked her constitutional immunity, paving the way for the Turkish police to arrest her.

On March 4, 1994, she was arrested and taken into ...