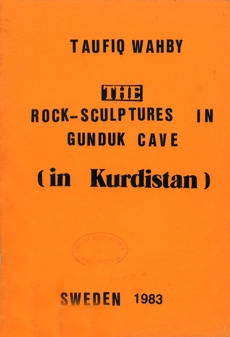 The Rock-Sculptures in Gunduk Cave, in Kurdistan

Taufiq Wahby

Compte d'auteur

In the Autumn of 1947 the Directorate-General of Antiquities inaugurated its winter-season of research by visiting and recording photographically the principal rock-sculptures of North Iraq, including some reliefs never previously studied. Among the monuments are the two interesting groups of carvings near the village of Gunduk in the Aqra district (See mop No. 1). It is on the subject of these sculptures and their general implications that I have written the following notes, as o preliminary to their further study.

In the Gunduk cave (Plate 1) there are two groups of bas-reliefs. The first group is on the left of the cave as one approaches, and the second is about seven metres higher, to the right of the first (Plate 2).

Of these two groups, the first, (Plate 3), only, has been observed ...