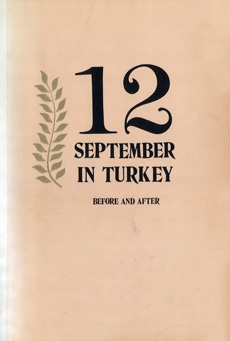 12 September in Turkey, Before and After

General Secretariat of the National Security Council

Ongun Kardesler

At the beginning of 1919 the Ottoman Empire was breaking apart at the seams as a result of the tremendous blows it had received in the First World War. The army, heavily defeated, was bereft of arms and ammunition, and the whole nation was exhausted and impoveris hed. Those who had dragged the country into the conflict had fled abroad to save their lives and aggressive forces which wanted to enslave the Turkish nation had invaded parts of Anatolia. The minorities, who had lived together with the mass of the nation for centuries, were attempting to undermine the state, by both over and covert means.

The moribund Ottoman state had already been dismembered. What was left of a once great empire was a piece of the "Fatherland" inhabited by a relatively small number of Turks, and forces with malevolent designs on the Turkish nation were engaged in attempts to carve up this piece of territory as well. The Ottoman state and Independence, the Sultan, the Caliph, the Government... all these terms and concepts had lost their meaning.
For the Turkish people, who had lived an independence ...