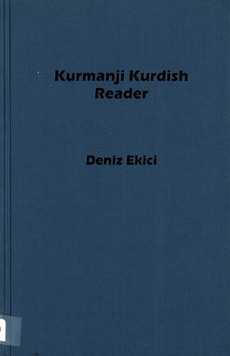 Kurmanji Kurdish Reader

Deniz Ekici

Dunwoody Press

This Kurdish newspaper reader is the latest addition to a small corpus of resources available to advanced student of Kurdish.

The articles that Mr. Ekici has chosen for this Kurmanji newspaper reader are timely, and the topics reflected in them give a good idea of how varied Kurdish life is today. The additional explanatory notes which have been provided — some about cultural matters, others about grammatical points -add to the book's value. The world of Kurdish studies welcomes a work such as this, showing things as they are in the first decade of the 21st Century. A great deal of effort has been put into this impressive undertaking: the newness of the material is truly refreshing.

With the exception of the correction of obvious typographical errors, the articles have been taken word for word as they appeared in their original format: grammatical inaccuracies have not been altered, although they are pointed out and discussed in the notes. This means that the spelling of certain words may vary from one article to the next, an inevitable ...