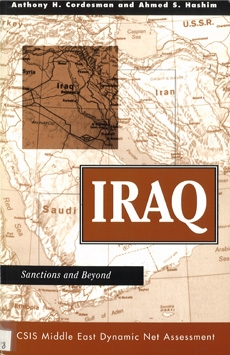 Iraq: Sanctions and Beyond
Anthony H. Cordesman
Ahmed S. Hashim

WestviewPress

With this multivolume study, Anthony H. Cordesman once again proves that he is a leading authority on the affairs of the Middle Eastern states. Cordesman led this comprehensive net assessment of the political, economic, energy, security (both internal and external), and military trends in each of the Gulf states, as well as the power projection capabilities of the U.S. forces in the Gulf.

Each volume provides a wealth of information, including an analysis of the key historical trends affecting security issues in the country under scrutiny; tensions involved in its external relations; the character of potential threats; developments in its politics and internal security; trends in its economy and government budgets; trends in military spending and arms purchases; trends in oil and gas export capability and economic diversification; trends in demographic, ethnic, and sectarian conflicts; trends in the shape of its military forces; and the changing strategic role of the United States in Gulf affairs. Avoiding the pitfalls of other works on this region, this six-volume account incorporates a wide range of concerns to paint a detailed and multifaceted picture of each state in the volatile Gulf region.

Emphasis is placed on hard data and substantive analysis. Detailed tables and charts are provided for each critical area, along with an overview of national data, data provided by international organizations such as the World Bank and International Energy Agency, unclassified U.S. government data, and the results of original research done by CSIS.
This volume provides analysis of the state of Iraq's security and of current Western policy toward the country in the wake of the Gulf War. It also examines the political, economic, and security impact of sanctions, Iraq's future role as an oil exporter, the U.S. policy of "dual containment" in relation to Iraq, and options for dealing with Iraq in the future.


---
Anthony H. Cordesman has served in senior positions in the office for the secretary of defense, NATO, and the U.S. Senate. He is currently a senior fellow and Co-Director of the Middle East Program at the Center for Strategic and International Studies, an adjunct professor of national security studies at Georgetown University, and a special consultant on military affairs for ABC News. He lives in Washington,
D.C. Ahmed S. Hashim is a fellow in Political-Military Affairs and the Middle East Program at the Center for Strategic and International Studies in Washington, D.C., where he specializes in strategic issues. Previously, he was a research associate at the International Institute for Strategic Studies in London. He lives in Virginia.