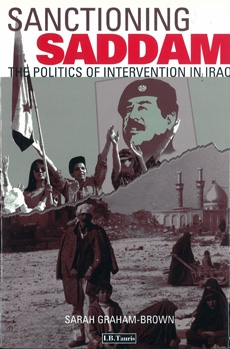 Sanctioning Saddam: The Politics of Intervention in Iraq

Sarah Graham-Brown

I .B .Tauris

Throughout the 1990s, Iraq has been the target not only of military attack but also of the most draconian and protracted economic embargo ever imposed by the international community. In the immediate aftermath of the 1991 Gulf war, the embargo was accompanied by an effort to provide aid to the Iraqi people and to protect them against human rights abuses by Saddam Hussein. This initiative seemed to break new ground in providing protection for civilians in a situation of conflict. Yet the outcome of the international community's efforts has fallen short of the promise. Why has there been such a large gap between the rhetoric and reality? How exactly have the combination of economic sanctions, international humanitarian aid and limited protection of civilians affected Iraq? And what lessons can be drawn from the experience?
This is the most carefully documented and comprehensive account to be published on the consequences of international intervention in Iraq during the 1990s. Sarah Graham-Brown's account follows the intricacies of international policy on Iraq during this time, discussing the background events of the 1970s and 1980s and culminating in the US and British air actions in early 1999. She examines not only the record of intervention but also the complicated political context that has shaped international policy and the Iraqi response to it.
The importance of the book - which will interest general readers, Middle East specialists and students of International Relations alike - lies in the author's explanation of issues which have made events seem so unpredictable.
---
Sarah Graham-Brown has written extensively on the Middle East and is the author of several books on the region, including the highly successful Images of Women: The Portrayal of Women in Photography in the Middle East 1860-1950 (1988). After three years of involvement with British aid agencies after the Gulf crisis, she has, since 1995, studied the situation in Iraq in depth.