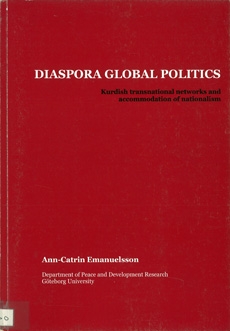 Kurdish transnational networks and accommodation of nationalism

Ann-Catrin Emanuelsson

Göteborg University

Migrants and refugees are increasingly regarded as diasporas or transnational communities. They are described as actors creating new transnational spaces beyond nation states. As they engage in various types of activities across boundaries, they develop multiple identities and a sense of multi-locality. In terms of political ideas and activities directed towards countries of origin, however, they are often still characterised as nationalist actors using cross-border means to strengthen the nation state system. Sometimes they are even described in sharp contrast to transnational cosmopolitan social movements.

This thesis discusses diasporas as increasingly significant 'transnational' actors in emerging 'global politics' by describing and analysing changes in political ideas, strategies, activities and networks of Kurdish diaspora organisations. It shows that the case of the Kurds encompasses many issues of interest for increased understanding of diasporas / transnational communities within the complexity of transformations 'between' as well as 'within' nation states. As the Kurdish issue was internationalised and the Kurds were increasingly recognised as Kurds in the 1990s, the diaspora organisations not only increased their transnational networks, they also entered a process going from proposing outright Kurdish independence to successively accommodating ideas concerned with 'universal' human rights, cultural and political pluralism and post-sovereignty.