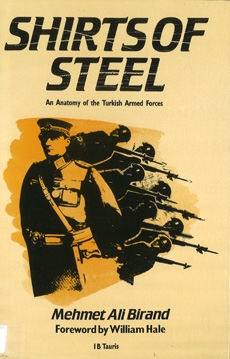 Shirts of Steel: an Anatomy of the Turkish Armed Forces

Mehmet Ali Birand
IB Tauris

The Turkish armed forces, over 800,000 strong, occupy a very special position in Turkish society. One of the largest armies in NATO, it is accorded a status enjoyed by no other European army. Its influence on the political life of the Republic runs deep. Three times-in 1961, 1971 and 1980 - the army has intervened in politics, on the third occasion to undertake wholesale constitutional and legal restructuring.
Shirts of Steel is a unique study of the Turkish army from the inside by one of Turkey's most distinguished journalists. Although the army is seen by many as guardian of the nation, the principles that guide and motivate the officer corps are barely understood and rarely discussed, even in Turkey. In an unprecedented break with convention, Mehmet Ali Birand was given permission to talk and live with officers and to write frankly about his experience. By allowing the people he interviewed to speak for themselves, and by following through the career of a typical officer from his initiation into the army at 14 to his final retirement, Birand gives his account a special liveliness and directness. The result is a fascinating insight into an institution which plays a central role in Turkish society.
---
Mehmet Ali Birand is a well-known journalist and specialist on Turkey, and the author of numerous books. His most recent book was The General's Coup in Turkey: An Inside Story of 12 September (London 1987).