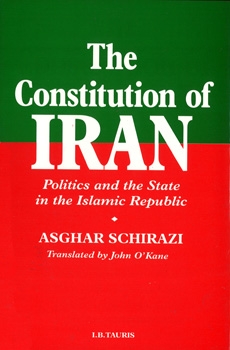 The Constitution of Iran

Asghar Schirazi

I.B.Tauris


A milestone in our understanding of the ideology and practice of an Islamic state, this book chronicles and analyses political life in Iran since the revolution showing the gradual transformation of the state from intended theocracy and republic to a hierocracy in which Islam and the shari'a play a subordinate role. Asghar Schirazi takes as his starting point the major contradictions inherent in the constitution - between its legalistic and democratic components and between the alleged potential of a legally and ideologically interpreted Islam as a means of solving social problems, and the growing evidence that this Islam is an inadequate legal and political basis for government in present-day Iran. Through a detailed examination of the genesis of the constitution, its content and its actual development since the inception of the Islamic Republic to the present day, this study charts the elimination in practice of the constitution's democratic elements and the gradual replacement of Islamic legalism with the interest of the state as the key criterion for dealing with problems. Schirazi argues that in this manner a separation of state and religion is taking place. In the last chapters, he points to a growing crisis of the shar Shari'a and the religious seminaries as the self-appointed guardians of the shari'a. This has opened the way for criticism coming from religious circles outside the seminaries hinting at possible developments in the Islam of the future.
---
Asghar Schirazi is research associate in the Department of Political Science, Middle East Studies Section at the Free University of Berlin.