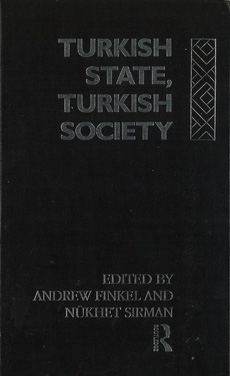 Turkish State, Turkish Society

Andrew Finkel
Nükhet Sirman

Routledge

Turkey is turning to the West. As the nation develops, it has capitalised on its strategic position to extend its political influence into the arena of European affairs. Recent Turkish history presents a picture of a highly volatile state fluctuating between tentative democracy and military rule. However, wooing the West has necessitated reform. For its part Europe must deepen its understanding of the Turkish military and bureaucracy.
Turkish State, Turkish Society examines the causes and effects of the tension between Turkey's formal constitution and the actual practice of power. The book analyses this tension from perspectives as diverse as that of Kurdish tribesmen, urban feminists, soldiers, and national and local administrators. It presents an expansive, detailed and highly colourful patchwork of the complex relationship between society and state in Turkey.
---
Andrew Finkel is a freelance writer.
Nükhet Sirman is Lecturer in Anthropology at Boğaziçi University, Turkey.