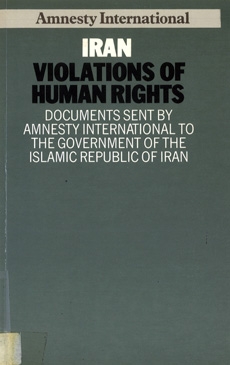 Iran: Violations of Human Rights

Amnesty International

Amnesty International Publications

Arbitrary political arrest and detention, unfair trials and inconsistent sentencing, torture, amputation and execution... these are among the many violations of human rights Amnesty International has recorded in Iran in recent years.

Reports abound of the brutal excesses of Revolutionary Guards acting largely as a law unto themselves, making arbitrary and often unauthorized arrests, and ill-treating and torturing prisoners. Cruel and inhuman sentences are being passed by the courts, including punishments of flogging, amputation and death by stoning. Political trials by Revolutionary Courts are grossly unfair: defendants have no legal representation, are often not told the charges against them, are not allowed to present evidence in their defence - and there is no way for them to challenge their detention or sentences.

Amnesty International believes that there are thousands of political prisoners in the country, many of whom are prisoners of conscience. From school children to 70-year-olds, they range from communists to monarchists to Baha'is, and come from all sectors of the community.
Thousands have been executed after being sentenced to death at trials sometimes lasting only minutes.

This report detail Amnesty International's concerns and recommendations in two memoranda sent to the government and presents the testimonies of former political prisoners and prisoners of conscience whose experiences are echoed by many others. It shows a pattern of human rights abuses over the last eight years and recommends changes needed to prevent further abuses and to improve respect for human rights.