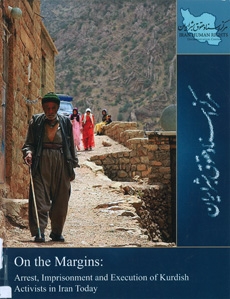 On the Margins: Arrest, Imprisonment and
Execution of Kurdish Activists in Iran Today

Iran Human Rights

IHRDC

The Iran Human Rights Documentation Center (IHRDC) believes that the development of an accountability movement and a culture of human rights in Iran are crucial to the long-term peace and security of the country and the Middle East region. As numerous examples have illustrated, the removal of an authoritarian regime does not necessarily lead to an improved human rights situation if institutions and civil society are weak, or if a culture of human rights and democratic governance has not been cultivated. By providing Iranians with comprehensive human rights reports, data about past and present human rights violations, and information about international human rights standards, particularly the International Covenant on Civil and Political Rights, the IHRDC programs will strengthen Iranians' ability to demand accountability, reform public institutions, and promote transparency and respect for human rights. Encouraging a culture of human rights within Iranian society as a whole will allow political and legal reforms to have real and lasting weight.
---
Zaynab Jalalian is a Kurdish Iranian political activist who was arrested in 2007 in Kermanshah. While in custody she has reportedly been severely physically and psychologically tortured and subjected to long periods of solitary confinement. In 2009, in a trial that reportedly only lasted a few minutes, she was sentenced to death on charges of niuhnribih —or "warring with God" —for her alleged involvement with PJAK. In December 2011, Jalalian's lawyer announced that her sentence had been commuted from execution to life imprisonment. Jalalian is currently incarcerated in Kermanshah prison.