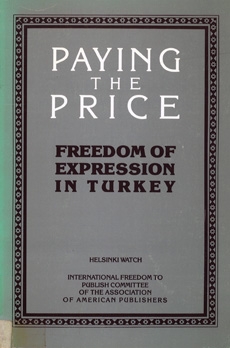 Paying the Price: Freedom of Expression in Turkey

Helsinki Watch

U.S. Helsinki Watch Committee

"Magazines are now freer to break taboos than at any time since the restoration of civilian government in 1983," according to an editor interviewed by Helsinki Watch in October 1988. "You have the freedom to write, but only if you're willing to pay the price for it."
Many editors, writers and publishers are indeed paying the price for what they have written—in harassment, criminal charges, detention, torture, trials and sometimes imprisonment. Since 1983 over 2000 journalists have been tried for what they have written.
This report, the seventh on human rights in Turkey issued by Helsinki Watch since 1980, deals with freedom of expression in Turkey—in the press, radio and television, publishing, film, music and in association. It is based on a fact-finding mission to Turkey in October 1988 by Helsinki Watch and the International Freedom to Publish Committee of the Association of American Publishers.