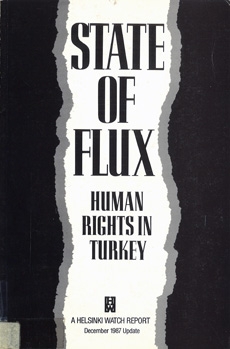 State of Flux: Human Rights in Turkey

Helsinki Watch

The Watch Committees

Human rights in Turkey are still in a state of flux. This report, the sixth on human rights in Turkey issued by Helsinki Watch since 1982, concludes that positive steps in the areas of free association and assembly are undermined by negative actions such as the continued use of torture in police detention and the incarceration of many thousands of political prisoners. These problems stem from the repressive 1982, Constitution and a series of equally repressive laws. In addition, the report charges that the Kurdish minority in eastern Turkey is routinely denied its ethnic identity: the Kurdish language, culture, customs and history are not recognized by the Turkish government, which denies the existence of the Kurds.
This Helsinki Watch report is based on a fact-finding mission in June 1987 that included a visit to eastern Turkey and on reports in the Turkish press.