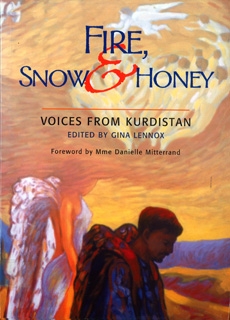 Fire, Snow and Honey Voices from Kurdistan

Gina Lennox

Halstead Press


In Fire, Snow & Honey freedom fighters, mothers, musicians, doctors, teachers,
soldiers and scholars, aged between 23 and 103, re-examine the past and present from a Kurdish perspective. By lifting many veils of secrecy, they reveal the origins of monotheism and of civilisation itself, as well as an ethnic persecution, which has killed about half a million Kurds in four decades.
At the front line of global forces, the Kurdish predicament is shown to be intimately interwoven with international events, such as the Iraq-Iran War and the Kuwait War. On the homefront, Kurdish women expose their often confronting experiences, emerging as shining examples of an ancient culture that honours loyalty, bravery and hospitality, music and poetry, but which has been torn apart by massacres, deportations, imprisonments and politics, resulting in a steady stream of refugees to the West.
---
Gina Lennox's interest in the Middle East dates back to 1980-81 when she rode a motorbike from London to India and back, through Turkey, Iran and Pakistan. Her experiences in Iran caused her to regain a belief in God. Since this journey she has read widely, produced a series of three radio programs on Iraqi Kurds in 1994, revisited the Middle East, and lived in an Egyptian village near Luxor in 1997-98.
As well as being a film-maker, radioproducer, teacher and community writing co-ordinator for a number of disadvantaged groups, Gina Lennox has three books published: People of the Cross (1994), Struck By Lightning (1996) and In Search of Heroes (1998).