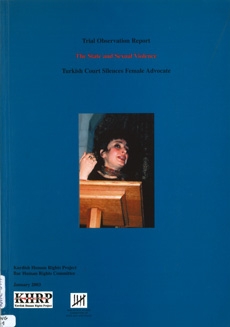 Trial Observation Report: Turkish Court Silences Female Advocate

Kurdish Human Rights Project

Compte d'auteur

To a significant extent, the legal, political and social background to the Delegation's visit was set out in the KHRP December 2001 report. Yet, there are a number of issues that have arisen during the course of 2002 that provide a contextual framework which should inform the reading of this report.
Three issues in particular are worthy of note here: the recent views of the European Union in respect of Turkey's accession to the Union, the position taken by international human rights organisations on the state of human rights in Turkey and the recent general election.
Firstly, the European Union has recently declined to offer Turkey an indication as to when it may accede.3 This was based, at least in ...
---
The Kurdish Human Rights Project (KHRP) is an independent, non-political, non-govemmental human rights organisation founded and based in London, England. KHRP is a registered charity and is committed to the promotion and protection of the human rights of all persons living with the Kurdish regions, irrespective of race, religion, sex, political persuasion or other belief or opinion. Its supporters include both Kurdish and non-Kurdish people.
The Bar Human Rights Committee (BHRC) is the international human rights arm of the Bar of England and Wales. It is an independent body primarily concerned with the protection of the rights of advocates and judges around the world. It is also concerned with defending the rule of law and internationally recognised legal standards relating to the right to a fair trial. The remit of the Bar Human Rights Committee extends to all countries of the world, apart from its own jurisdiction of England & Wales.