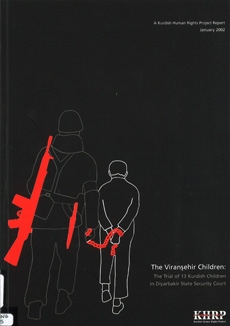 The Trial of 13 Kurdish Children in Diyarbakir State Security Court

Kurdish Human Rights Project

Compte d'auteur

On 3 April 2001, two British lawyers, barrister Mary Hughes and solicitor Angela Gaff, both of whom specialise in the representation of children, travelled on behalf of the Kurdish Human Rights Project to Diyarbakir in Southeast Turkey, to observe the trial of 13 children who had been arrested, along with 15 others, on 8 January 2001. The children had been accused of supporting an illegal organisation, the Kurdistan Workers' Party (PKK) and of facilitating their activities by having participated in an unauthorised demonstration in protest against changes in Turkey's prison system, and shouting pro-PKK slogans. Mandatory terms of imprisonment of three to five years were applicable. The arrest of the children attracted a great deal of media attention. The first hearings in the case were held on 17 January and 5 February 2001.
The hearing that was observed by the delegation took place on 5 April at the State Security Court in Diyarbakir and was adjourned ...
---
The Kurdish Human Rights Project is an independent, non-political project founded and based in London, England. The KHRP is a registered charity. It is committed to the promotion and protection of the human rights of all persons within the Kurdish areas, irrespective of race, religion, sex, political persuasion or other beliefs or opinions. Its supporters include both Kurdish and non-Kurdish people.