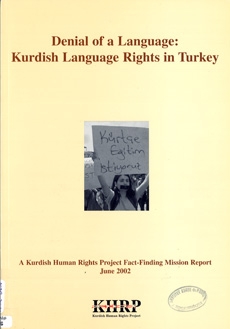 Denial of a Language: Kurdish Language Rights in Turkey

Kurdish Human Rights Project

Compte d'auteur

On 20 November 2001, a group of students at Istanbul University signed a petition demanding the introduction of optional Kurdish lessons at the university, and announced their action at a press conference. This was to trigger the presentation of thousands of similar petitions at universities and high schools around the country, a clampdown from the authorities and reverberations around the country and beyond. By 14 February 2002, students at 24 universities across Turkey had attempted to hand in a total of 11,837 petitions and they had been joined by thousands of school pupils and their families who had presented their own petitions with respect to the teaching of Kurdish in primary and secondary schools. The response of the authorities was swift and harsh: by 14 February, 1,359 had been taken into custody, 143 had been remanded in custody, and 46 had been suspended from their school or university.1
The student campaign raised the issue of optional lessons in Kurdish, but this is just one aspect of the question of language rights in Turkey. KHRP decided to send a mission to Turkey in February 2002 to investigate the student campaign and the wider issues it raises regarding ...
---
The Kurdish Human Rights Project (KHRP) is an independent, non-political, nongovernmental human rights organisation founded and based in London, England. KHRP is a registered charity and is committed to the promotion and protection of the human rights of all persons living within the Kurdish regions, irrespective of race, religion, sex, political persuasion or other belief or opinion. Its supporters include both Kurdish and non-Kurdish people.