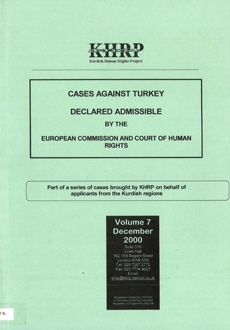 Cases against Turkey Declared Admissible

Kurdish Human Rights Project

Compte d'auteur

The Wider Significance of the Admissibility Decisions in this Volume
Three of the cases reported in this volume concern the ill-treatment and/or killing of HADEP representatives in Adana in 1994-1995. Abdulsamet Yaman complains that he was arrested and tortured by the police in 1995. Haci Sait Macir was shot dead at his Adana cafe on 30 December 1994/1 January 1995. Both were provincial HADEP leaders. The applicant in a third case, Ahmet Dizman, had been an eyewitness to the killing of HADEP leaders Rehib Qabuk and Sefer Cerf in Adana in October 1994. Two days later Dizman himself was abducted and beaten by police officers. A fourth case, Binbay, concerns the alleged ill-treatment by the police of a former president of the Van branch of the Human Rights Association of Turkey.
….