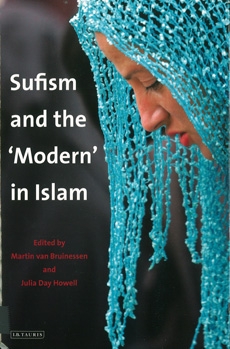 Sufism and the 'Modern' in Islam

Martin van Bruinessen
Julia Day Howell

I. B. Tauris

Sufism has not only survived into the twenty-first century but has experienced a significant resurgence throughout the Muslim world. Sufism and the 'Modern'in Islam offers refreshing new perspectives on this phenomenon, demonstrating surprising connections between Sufism and Muslim reformist currents, and the vital presence of Sufi ideas and practices in all spheres of life.
Contrary to earlier theories of the modernization of Muslim societies, Sufi influence on the political, economic and intellectual life of contemporary Muslim societies has been considerable. Although less noticed than the resurgence of radical Islam, Sufi orders and related movements involve considerably larger numbers of followers, even among the modern urban middle classes. The movement demonstrates a vitality and fervour that has massive contemporary appeal to urbanites, particularly in the West.
This innovative study brings together new comparative and interdisciplinary research to show how Sufis have responded to modernization and globalization and how various currents of Islamic reform and Sufism have interacted. Offering fascinating new insights into the pervasive Sufi influence on modern Islamic religiosity and contemporary political and economic life, this book raises important questions about Islam in the age of urbanism and mass communications.
---
Martin van Bruinessen is Professor of Islamic Studies at Utrecht University and the International Institute for the Study of Islam in the Modern World (ISIM).

Julia Day Howell is Associate Professor in Asian Studies at Griffith University, Brisbane, Australia.