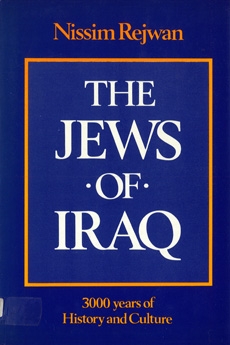 The Jews of Iraq

Nissim Rejwan

Weidenfeld and Nicolson

Covering nearly three thousand years of history, this fascinating book is the first comprehensive account, written in English, of the fortunes of the Jews of Iraq, their culture, society and religious heritage. Divided into three equal parts, the book deals with the most crucial phases of the community's history: from the Assyrian captivity to the Arab conquest; the encounter with Islam; and the century of radical change preceding the mass exodus of the Jews to Israel in 1950-51. Special emphasis has been placed on the Iraqi Jewish contribution to Judaism as a religion, a culture and a civilization.
The distinguishing feature of this book is the author's attempt to set his account in the wider context of general Jewish, regional and Iraqi history, making the work a highly self-contained narrative which the general reader can use without having to refer to other historical books. For this, Nissim Rejwan has put to good use his knowledge of the community, of Islam, of Arabic society and culture, and his training in sociology and anthropology.
Since the virtual liquidation of the Iraqi Jewish community in the early 1950s, a whole new generation of Iraqi Jews has grown up in Israel and many parts of the English-speaking world. It is hoped that this absorbing book will prove invaluable to this as well as the older generation of Jews from Iraq as a journey into their past and as a quest for their roots.
---
Nissim Rejwan started his writing career in Baghdad as a regular film and book reviewer for the Iraq Times. After his arrival in Israel, he worked for the English-language daily the Jerusalem Post and was Editor-in-Chief of the Tel Aviv daily Al- Yaum. In the late 1960s he was Senior Research Fellow at the Shiloah Centre, Tel Aviv University, where he did research for his book Nasserist Ideology: Its Exponents and Critics. He is also the author of two forthcoming books: Arabs Face the Modem World, an intellectual history of Arabic Islam during the last century, and Passage from Baghdad: A Memoir, an autobiographical work dealing with his experiences during a crucial period of Iraqi history.