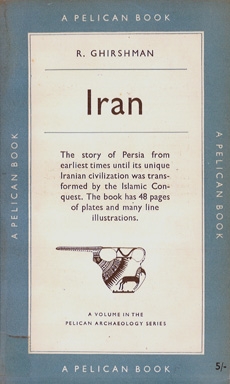 Iran: From the Earliest Times to the Islamic Conquest

R. Ghirshman

Pelican Books

The Iranian Plateau is a triangle set between two depressions, the Persian Gulf to the south and the Caspian Sea to the north (Fig. I). Further, as a bridge between Central and Western Asia, it forms a promontory which links the steppes of inner Asia to the plateau of Asia Minor and beyond to Europe. Geography can thus account for the historic part which the Plateau was called on to play in the course of thousands of years of human history.
The triangle is bounded by mountains rising ...
---
Professor R. Ghirshman, archaeologist, explorer, and historian, was born in 1895, and educated at the Sorbonne, the Ecole des Hautes Etudes, and the Ecole du Louvre. His first experience of archaeology in the field was in 1930, when he accompanied the French Mission to Tello, in Iraq. The following year he was appointed head of an expedition to Iran, and made excavations at Giyan, Luristan, Assadabad, and Siyalk. In 1935 he began work on the site of Shapur, a Sassanid town founded in the 3rd century A.D., and in 1936 took part in the first archaeological expedition to Afghanistan. In 1941 he was appointed head of the French Delegation Archeologique in Afghanistan, and after the war he was put in charge of the two French archaeological expeditions to Iran by the French government. In 1949 he made a trip by caravan into the mountains of Bakhtiari, where he explored, for the first time in Iran, a cave which was inhabited in neolithic times.
Professor Ghirshman has published many works on the archaeology, history, inscriptions, and coins of Iran and Afghanistan. He is a member of a number of learned societies, both French and foreign; has been awarded an honorary doctorate by the University of Teheran and is an honorary Professor at the University of Aix-en-Provence; and is a Corresponding Member of the Academie des Inscriptions et Belles-Lettres. Professor Ghirshman is a Commander of the Legion d'Honneur.