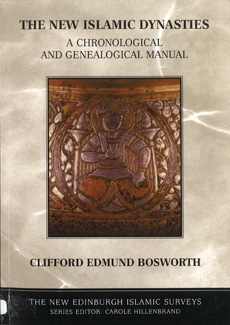 The New Islamic Dynasties

Clifford Edmund Bosworth

Edinburgh University

'This indispensable reference work ... is clearly set out and easy to use and all students and scholars of Islamic studies, not just numismatists and historians, will need to keep it handy, no matter what their precise specialty. It will be the genealogical and chronological reference work of Islam par excellence for many, many years to come.'
Journal of Semitic Studies
'A reference work which will be even more useful for coming generations of scholars than was its predecessor.'
Islam and Christian-Muslim Relations
'This manual answers the needs of students and scholars of the entire Muslim world.' Richard W. Bulliet, Professor of History, Columbia University
Those coming to the study of Islamic history for the first time face a baffling array of rulers and dynasties in the many different areas of Islam.
This book provides a comprehensive and reliable reference source for all students of history and culture. It lists by name the rulers of all the principal Islamic dynasties with Hijri and Common Era dates. Each dynastic list is followed by a brief assessment of its historical significance, and by a short bibliography.
Fully updated and substantially revised and expanded for a modern audience, this handbook is based upon Bosworth's renowned Islamic Dynasties, first published in 1967 and revised in 1980. As well as increasing the number of dynasties covered from 82 to 186, innovations in the new edition include much more extensive listings of honorific titles and of filiations, allowing genealogical connections within dynasties to be made.