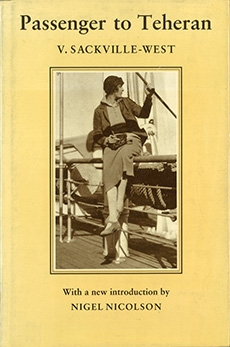 Passenger to Teheran

Vita Sackville-West

Cockbird Press

In the spring of 1926 Vita Sackville-West travelled to Persia to visit her husband, Harold Nicolson, who was at the British Legation, going by way of Egypt, India and Iraq and returning later that year through Russia, newly communist, and revolution-torn Poland. The route was circuitous and the pace leisurely, though not without excitement, and the result is a lively and reflective book of travels.
The author begins with the provocative statement that 'there is no greater bore than the travel bore' and then by her own account of the journey disproves it. She is eloquent about her journey and adventures, drawn towards the geographic remoteness and simplicity of life she encounters, but is humorous too, her reactions often less than discreet.
Her son, Nigel Nicolson, reveals many personal details of the journey omitted from the original 1926 edition in his engaging introduction to this classic of travel literature. He has also selected the photographs, almost all previously unpublished, from V. Sackville-West's album of her journey.
Vita Sackville-West, distinguished novelist, poet, biographer and critic, was born at Knole in 1892, marrying Harold Nicolson, diplomat and writer, in 1913. They lived at Sissinghurst Castle, Kent where they created their testament, a magnificent garden. Vita Sackville-West was close to Virginia Woolf and the literary Bloomsbury Group and in her long career wrote more than 30 works. She died in 1962.