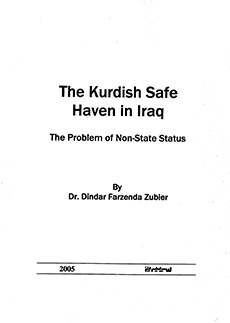 The Kurdish Safe Haven in Iraq

Dindar Farzenda Zubier

Spîrêz

This study examines the circumstances and events that led to the unprecedented creation of an international Safe Haven in Northern Iraq; the events that culminated in the refugee crisis of March 1991, when 2 million Kurds fled from their homes and communities to the mountains of Northern Iraq. Turkey and Iran. It explores the history, culture and ethnic identity of these people and how their story and political status today relates to the history of the Iraqi state. The study analyses the geopolitical and historical content of the debates surrounding the ongoing search for Kurdish identity, presents suggestions for the creation of a Kurdish state and critically analyses the international community's responsibility to the peoples of northern Iraq, following the end of the 2ⁿd Gulf War in 1991.
The study takes a look from the wider perspective of world politics to understand what is happening in Kurdistan, and explores how international political agreements have shaped the fate of the Kurds throughout history up to the present day, noting the influence of governments, global corporations and organizations far removed from Kurdistan. The study reflects on the various Kurdish movements and leaderships that have come into being and who hold claims to the governing of the region.
Further, it examines the extent to which the 2ⁿd Gulf War in particular acted as a catalyst for the creation of a Safe Haven in Kurdistan and reviews the recent growth in international interest in human rights and increased media calls for humanitarian aid for the Kurds; calls that have since been repeated elsewhere in the world, Bosnia and Kosovo for example.
It also shows, with original fieldwork, examples of what the Kurdish people have actually claimed to want for themselves and it proposes a possible future model for international interventions, answering the questions: what jurisdiction exists for intervention and what form of intervention should take place in cases like Iraqi Kurdistan?