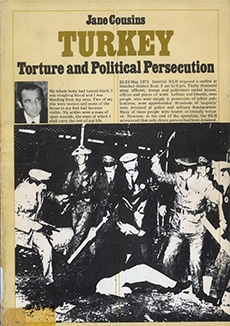 Turkey: Torture and Political Persecution

Jane Cousins

Pluto Press

This book documents in detail the torture of political prisoners in Turkey, and the staggering brutality of the methods used. It documents the political trials with which the regime hoped to destroy the left. It analyses the oppression of the teachers and academics who have become the regime's scapegoats. It charts the continued attack upon the Kurds and upon trade unionists. It also shows the complicity of the British government, and The abject failure of the British press to investigate the horrifying situation.
TH& book places the events of the last two years in the context of modern Turkey history. It provides the only full study of the constitutional changes which are used to mask the abrogation of human rights.
This book is important for anyone concerned about the contemporary use of torture as a method of political intimidation (it is published at a time that Amnesty International has decided to concentrate its pressure on the subject). The book is important to anyone concerned about the economic and political deals made between the EEC and its associate members.
Jane Cousins graduated in History at Kent University in 1969. She spent two years researching into the politics of the First World War, focusing on Turkey and the Gallipoli Campaign. From 1971 to 1973 she worked as Harold Wilson's political researcher.
Faced with a virtual blockade on real news from Turkey, Jane Cousins went there to interview politicians, trade unionists, academics, lawyers and many ex-prisoners. She was given access to papers and documents which are here published for the first time.