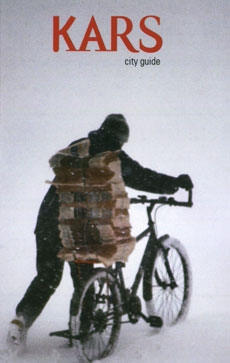 Kars, city guide

Vedat Akçayöz
Tazebey Çakaz
Yıldırım Öztürkkan
Sezai Yazıcı
Özcan Yurdalan

Would you tike to ski on crystallized snow? Or watch the snow fall from in front of a cozy fire on a winter afternoon? Lose your way wandering through century-old streets, admiring unique Russian architecture and imagining the life of those stone houses?

How about following one of Turkey's most important bird trails, and seeking out flowers that can't be found anywhere else?

Are you ready to encounter the city of Orhan Pamuk's novel 'Snow'? Or to go back thousands of years as you explore the ancient city of Ani, one of the world's most precious cultural heritage sites?

There is a place where you can do all these: Kars.

Kars is Turkey's gateway to the Caucasus. It's a city which is likely to be on one of the new borders of the European Union in the near future. A must-see city, with its thick white blanket throughout the winter, and its Russian architecture.

More than just a guide, this book is a collective work...

It is the product of an adventure undertaken by the people of Kars as they talk about their own city - a book in which locals describe their home and welcome their guests.