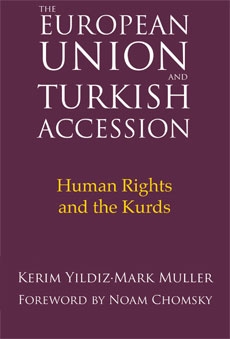 The European Union and Turkish Accession: Human Rights and the Kurds
Kerim Yildiz and Mark Muller
Foreword by Noam Chomsky
In 2004, the European Union (EU) delivered the historical and longawaited decision to open the formal accession negotiations with Turkey. The prevailing mood, on both sides, was fi lled with hope, promise and optimism. For Turkey, the decision meant an eagerly anticipated step closer towards membership of the 'exclusive club' of Western states. For the EU, the decision enabled it to kick-start the reform process within Turkey. Fast-forward three years later to 2007, and the air of optimism has, unfortunately, faded and been replaced by scepticism, unfulfi lled promises, pessimism and rising tensions.

This book follows the development of the accession process, analysing the various aspects of the negotiations between the EU and Turkey. It expands the viewpoint to provide wider examination of the current accession process, covering civil, political, cultural and minority rights in Turkey; the military and Islamists in Turkish politics; confl ict in the southeast and its international dimension; internal displacements; the Kurdish question, and future considerations of the accession. There is a pressing need for discussion on the issues this book covers because, despite the seemingly rapid reform process since the opening of the accession talks, most of the reforms are yet to be realized. Turkey continues to violate the basic
rights of her citizens and up until now, the lack of commitment towards genuine reforms has been unfortunately explicit in Turkey.

Furthermore, since 2004 there has been a sharp increase in resistance within Europe to Turkey's accession to the EU, which creates further obstacles on the path towards the membership. Correspondingly, the support for, and trust in, the EU is declining in Turkey, coupled with rising nationalism.