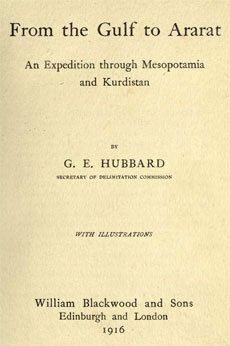 From the Gulf to Ararat
An Expedition through Mesopotamia and Kurdistan
The majority of the photographs which illustrate this book were taken by Captain Brooke, who has kindly allowed me to use them for this purpose ; for a great number of the remainder I am indebted to Mr Wratislaw.

Captain Wilson has been of the greatest help to me in many ways, in particular by lending me his notes on various districts. Finally, I have to thank Mr W. Foster, C.I.E., of the India Office, for enabling me to consult extracts from the early records of the Honourable East India Company, and the Editor of ' The Near East ' for the loan of old files dealing with irrigation in Mesopotamia.

I have acknowledged assistance from other writers in the body of the book.
G. E. H.