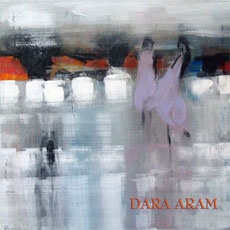 Paintings
Dara Aram is a Toronto based, contemporary painter who has studied fine art at the Suleymani Institute of Fine Art in Kurdistan and at the Ontario College of Art, Toronto Canada. Aram has painted and created installations for over twenty years, since 1980.

Artists, since time immemorial, have conveyed their message with images rather than logical, linear statements. Dara Aram's art does precisely this. It is a journey into the imaginary realms of the unconscious. The abstract forms and mythological themes that emerge on his canvas serve as an inspiration to modern industrialized man, who urgently needs to reconnect with his lost soul. This soul lies languishing under the weight of our modern, cold, corporate world where profits and statistics reign supreme over the human spirit. Humanity needs desperately to find spiritual security in this mechanized epoch of globalization.

Over the past year, Dara's impassioned search for meaning has found hope and inspiration in the motifs of Mesopotamian history and mythology. Mesopotamia, from the Greek meaning "between two rivers," is the fertile land flanked by the Tigris and the Euphrates Rivers. Also known as the "Cradle of Civilization," it, today, clearly maintains a vital and crucial place in the destiny of humankind.

Aram has exhibited in 67 solo and group shows world wide in galleries and museums, including Japan, Germany, Sweden, Norway, the UK, Middle East and North America. He has received numerous grants and awards. Also, he has been interviewed by newspapers, magazines and TV. Aram's works are in private and public collections such as the Canadian Embassies in Denmark and in Sweden. Mr. Irvin Zuker, a prominent art collector from Hamilton, Ontario and well known Canadian artists Leonard Cohen and Doris McCarthy have Aram's works. He has donated numerous works to charities and cultural events.

He has lectured and taught at a number of colleges, universities, elementary and secondary schools.