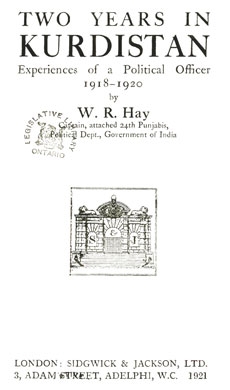 Two years in Kurdistan: Experiences of a Political Officer (1918-1920)
Wherever possible in the pages that follow the recognised method of transliteration for Arabic and Persian place-names has been followed. It has been necessary, however, to make some variation in the case of Turkish and Kurdish names. The spelling " Koi " has been used throughout instead of the more usual " Keui," as it is simpler and approximates more nearly to the actual pronunciation.
No Bibliography is given, and the only books other than ordinary works of reference which have been consulted are C. J. Rich's "Residence in Koordistan" 1836, and Major E. B. Soane's "To Mesopotamia and Kurdistan in Disguise," 1912. Two appendices will be found at the end of the volume, in one of which a brief account of the administrative system of the Turkish Empire is given, and in the other a summary of events in Mesopotamia from the Turkish Armistice in October, 191 8, to the end of 1920...