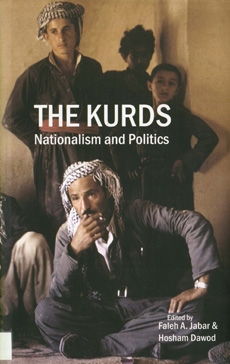 The Kurds, nationalism and politics

Faleh A. Jabar, Hosham Dawod

Saqi

In the aftermath of the Second Gulf Wax, the Kurdish people are on the verge of establishing themselves as a recognised political force within a federation. The case of the Kurds, therefore, provides a strong foundation for drawing fresh, insightful conclusions about a very contemporary question: how do ethnicity and issues of self-determination interact?

In the early twentieth century the principle of self-determination was expounded by two very different leaders — the revolutionary Russian Vladimir Lenin and the liberal American Woodrow Wilson. In our times, however, ethnic relations are assuming the central role nationalism occupied over a century ago. Today more than 8,000 languages are spoken on the planet by people of dozens of religions and races. These markers of ethnicity are trapped in fewer than 200 states, the very political units that can satisfy nationalist yearnings.

The Kurdish situation is approached here from a wider theoretical perspective which rethinks the accepted conventions about what ethnicity is and is not. Here such experts as Fred Halliday, Martin van Bruinessen, Joyce Blau, Maria O'Shea, Sami Zubaida and others develop a more complex and fluid understanding of ethnicity. The roles of language, material culture and religion are considered together with the role of social organisation, including tribe, sect, brotherhoods and the city. Such a diversified critique of modernist, essentialist and historical schools helps redefine the 'ethnic self; with cases drawn from the modem or recent history of Iraq, Turkey and Iran.

Each of the contributors has written extensively on the Kurds or the Middle East and, by bringing together the disciplines of history, anthropology, sociology, politics, geography and linguistics, enriches and refines the debate.