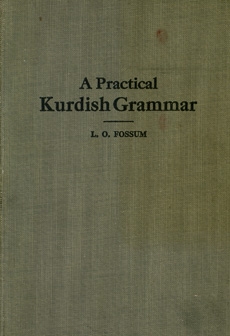 A practical Kurdish grammar

L. O. Fossum

I. S. E. L. O. M. S.

Chapter I

The Kurdish alphabet

I. There are thirty-two letters in the Kurdish alphabet. Four of these, namely گ (Gaf), ژ (Zha), چ (Chim), and پ (Pa), are strictly Persian letters, and the other twenty-eight have been borrowed from the Arabic.

2. Form of letters

Name - Unconnected characters - Joined to Letters – Pronunciation and transcription

Final – Medial – Initial

.....