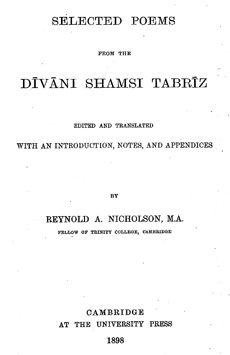 Selected poems from the Divani Shamsi Tabriz
Reynold A. Nicholson


Introduction

1. The Dīvāni Shamsi Tabriz acquaints us with a striking literary phenomenon1. It is true that books have been ascribed by ambition or malice to those who had no hand in producing them. It is true, again, that while the fashion of pseudonymous authorship is everywhere understood and practised, in Persia the poet a la mode cannot dispense with a takhallus, which instead of exciting curiosity and sparing modesty a blush serves to gratify the generous patron, to immortalise a place or event, to unfold some characteristic, and in fine to secure that its owner shall not for all time lie buried under one of those cumbrous family trees that betray alike the poverty and confusion of Mohammedan nomenclature. But here is no question of takhalluş2, forgery, or composition holding up to ridicule the imagined author. The Divan was never attributed to Shamsi Tabriz, who probably died before it was complete. Why then does his name appear on the title-page and at the end of most of the odes? Who was he, and in what …

1 The case of Plato and Socrates is similar in kind, not in degree.

2 In a certain mystical sense Shamsi Tabriz may be regarded as a takhalluş. Jalālu'ddīn asserts the identity of subject and object: to him Shamsi Tabriz represents the divine Beloved, the one Being in whom all individual names are manifested and ultimately merged.