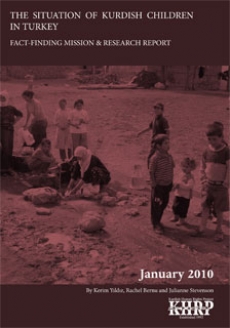 THE SITUATION OF KURDISH CHILDREN IN TURKEY – FACT-FINDING MISSION & RESEARCH REPORT
There are an estimated 15 million Kurds in Turkey. Comprising 23 per cent of the country's population, the Kurds are Turkey's largest non-Turkish ethnic group. According to census data, one quarter of the Turkish population is under 15. Accurate figures for the percentage of children under 18 are difficult to find given that the Turkish census only aggregates demographic data according to those aged 0-14, 15-64 and 65 years and over. However the United Nations Children's Fund (UNICEF), estimate that approximately 36 per cent of Turkey's population is under the age of 19, and applying this percentage to the Kurdish population we can roughly estimate that there are around 5,400,000 or more Kurdish children aged 19 and under in Turkey. In line with the mandate of promoting and protecting human rights in the Kurdish regions, in 2004 the KHRP produced a report on the situation of Kurdish children in Turkey, which was developed from desk-based research. KHRP decided to follow up on this report in 2008 in order to assess what improvements, if any, had been made in the intervening period.

The 2004 report was produced in the wake of the assessment of Turkey's international obligations under the UN Convention on the Rights of the Child (CRC) in 2001. Immediately following this assessment a number of NGOs had produced their own reviews of Turkey's compliance, and as a result, there was a dearth of new investigative material. Since then, the UN Committee on the Rights of the Child has gone onto review in December 2007, Turkey's report under Article 8, paragraph 1, of the optional protocol to the CRC on the involvement of children in armed conflict, and in September 2009, the Turkish government's responses to the Committee's list of issues. The continued policy of the Turkish state which does not distinguish between its citizens ethnic/cultural/linguistic origins makes it difficult to gather information or data on any specific sub-group of the Kurdish population, including children. This problem is magnified by the fact that many of the international organisations working in Turkey that KHRP contacted, did not distinguish between the Turkish and Kurdish population within their work. A report developed solely from desk-based research would therefore not be sufficient to produce a comprehensive assessment of the situation of Kurdish children in Turkey...