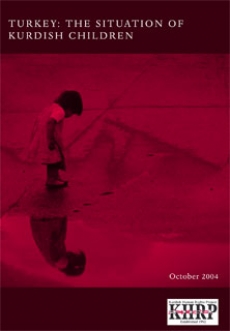 Turkey: the Situation of Kurdish Children
KHRP is an independent, non-political human rights organisation dedicated to the promotion and protection of the human rights of all persons in the Kurdish regions, irrespective of race, religion, ethnicity, gender or other belief or opinion. With respect to Turkey, the protection legislation affords to some groups is not meted out to others. This report has been prepared to assess the situation of a group vulnerable on two accounts: children marginalised due to their Kurdish identity.

The failure adequately to protect Kurdish children, both in legislation and in its implementation, creates a need for both the Turkish government and the international community to take action. Despite Turkey's ratification of international conventions concerning children and its attempts to harmonise domestic legislation with EU standards, Kurdish children disproportionately face the threat and actualisation of a general disregard for their wellbeing and their inalienable rights.

Kurdish children in general, especially displaced children, suffer inadequate provision of the most basic needs, namely, the suitable provision of housing, health care, basic nutrition, and actual access to education. Vast poverty and the consequences of forced displacement determine the daily environment for many Kurdish children, exposing them to numerous high-risk diseases, limiting their ability to attend school, providing them with less then adequate nutrition, and shelter. In addition, many children are forced into the labour force on the streets or elsewhere and are thus exposed to an array of dangerous environments. Many Kurdish children are believed to suffer from emotional stress and depression. Kurdish children, detained by police, have been subjected to torture or illtreatment, including sexual torture and psychological abuse...