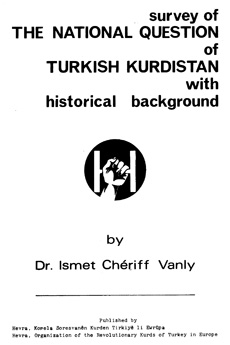 Survey of the national question of Turkish Kurdistan with historical background

Ismet Chériff Vanly

Hevra

Important events appear to be shaping themselves as well as taking place in Turkish Kurdistan and the whole Republic of Turkey. These events concern the democratic life and the system of government of the republic; they affect the present and the future of both the Turkish and the Kurdish peoples and are directly related to the Kurdish national question.- Before reviewing and analysing them, it is necessary to give some general data about Turkish Kurdistan and to have a look at its history.

Turkish Kurdistan is, naturally, a part of the territory of the Republic of Turkey, and the country of that part of the Kurdish people who live within the boundaries of this state. It covers what our Turkish friends call- nowadays - the "Doğu Anadolu" ("eastern Anatolia") and the "Guney Doğu Anadolu" ("South-eastern Anatolia"), or, to simplify, the "Doğu" ("The East"). In administrative terms, that represents roughly 19 out of the vilayets, or provinces ("il", plural "iller", in Turkish), of the state. With the exception of the western half of the vilayet of Marash (Maras), and, possibly, of some peripherical districts of those of Malatya, Erzurum and Kars, the 19 vilayets which constitute Turkish Kurdistan are the following: Adiyaman, Agri (Ararat), Bingöl, Bitlis, Diyar bekir (Diyarbakir), Elazig, Erzinjan (Erzincan), Erzurum, Gaziantep, Hakkari, Kars, Malatya, Marash, Mardin, Mush (Mus), Siirt, Tunceli (Dersim) Urfa and Van. But a part of the vilayet of Sivas, to the east and south-east of Zara, is Kurdish.

.....