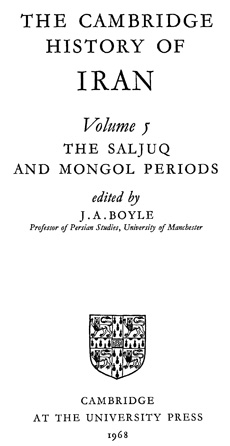 The Cambridge History of Iran - V

J. A. Boyle

Cambridge University Press

For nearly a thousand years—indeed, until our own century—Iran has generally been ruled by non-Persian dynasties, usually Turkish but sometimes Mongol or Kurdish. This domination at the highest level has had less effect on Iranian national psychology and literary consciousness than might be expected, for all of the alien ruling dynasties have come from races of low cultural development, and thus they have lacked the administrative expertise necessary for ruling a land of ancient settlement and civilization. Whether consciously or unconsciously, they have adopted Iranian culture at their courts, and they have been compelled to employ Iranian officials to administer the country and collect the taxes.

.....