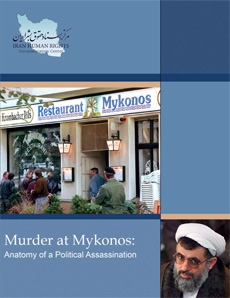 Murder at Mykonos: Anatomy of a Political Assassination

IHRDC Mission

Iran Human Rights Documentation

On September 17, 1992 agents of the Islamic Republic of Iran (IRI) murdered three leading members of the Democratic Party of Iranian Kurdistan (PDKI) and one of their supporters in a private dining room at the Mykonos Restaurant in the Wilmersdorf district of Berlin, Germany. The attack was one of a series of assassinations sponsored by the Iranian government after the revolution of 1979 designed to intimidate and disrupt the activities of political opponents of the regime.

.....