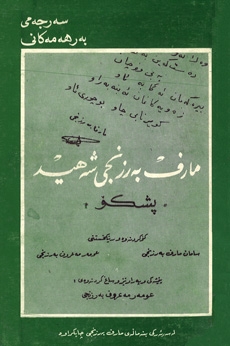 Marûf Berzencî, șehîd "Pișko"

Saman Marûf Berzencî
Omer Marûf Berzencî

Çapxaney Roșibîrî

Yek șit heye ke dilî min edatewe ewîș
Azadî giyanim e, em giyanem dîl nekirduwe ta
Em ro serim bo arezûy hewar hews wenan û
Xwan û koșk we deselat daneniwandiwe rêgayî
Sextî șerefim helbijarduwe lem komel û
Desgaye da ya ebê rêgayî azadî bigrêt
Sexte ya rêgayî dîlî bigrête asane bû bê
Giyanekanî belam gelê sext tire le rêgayî
Sext bo giyandar bo însanî rast dibe
Șeref. / Marûf Berzencî

---

Marif Barziji - Born in 1921 in Qadirkaram, of a noble family affiliated to the famous sheiks of Barzinja, Marif Barzinji finished his high school studies in Kirkuk and after receiving his university education in Baghdad, he became a lawyer in 1948.
- A well-known patriot, an ardent advocate of peace who persistently strived for the abolition of social injustice.
- In 1959, in response to the public demand, he was appointed mayor of Kirkuk city but due to a malicious intrigue by the foreign oil companies, he was arrested and condemned to death.
Four years later and after the success of the sanguinary coup d'état of 1963 he was executed on the 23rd of June of the same year.
- One of the most talented writers whose writings are generally characterized by objectivity, realism and a fertile imagination; a style of expression that reflects a particular ability to effectively attract the love and admiration of the readers, an impressive poet, an ingenious critic, a genuine writer of plays and short stories, a potent literary analyst and an earnest journalist.
- In addition to some private letters, this book contains his complete literary works as well as a diary in which he talks honestly about his life in jail.