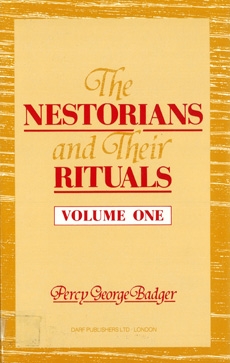 The Nestorians and Their Rituals

Percy George Badger

Darf

The Nestorian Church is the name given to the ancient Christian community of the Assyrians and their converts, first founded in the fourth century. Though surviving for 800 years, and in that time producing many remarkable theologians and philosophers, the church was practically wiped out by the Tatar hordes at the end of the fourteenth century. Thereafter only a remnant of the western community survived, confined to the area then known as northern Mesopotamia.
By the mid nineteenth century, churchmen in England were anxious to secure what knowledge they could of this religious group, seeking also to prevent its complete demise. It was for this reason that George Percy Badger was sent as delegate to the Eastern Churches in 1842-4, and again in 1850, travelling widely throughout that inhospitable region within the borders of modem day Turkey, Iraq and Syria.
The present work, first published in 1852 in two volumes, and here reproduced in facsimile, contains a unique and detailed account of the rituals and practices of the Nestorian Church and other significant religious groups of that region.