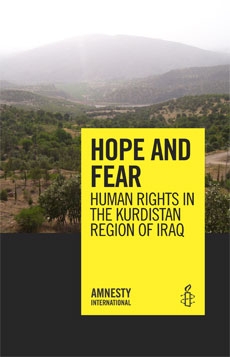 HOPE AND FEAR
HUMAN RIGHTS IN THE KURDISTAN REGION OF IRAQ

The Kurdistan Region of Iraq has generally been free of the daily violence that has marked most other areas of the country in recent years. The region has enjoyed relative economic prosperity and an expansion of civil society, and the Kurdish Regional Government has made encouraging progress in the field of human rights. Despite this, serious human rights violations persist.

Thousands of people have been detained arbitrarily and held without charge or trial, many for years. Some have been tortured and otherwise ill-treated; some have been victims of enforced disappearance. Most were detained by the Asayish, the security agency, without an arrest warrant and were then denied access to a lawyer or any opportunity to challenge their detention before a court. Among those targeted have been political opponents of the Kurdish authorities, including media workers, and members of Islamist groups.

Widespread violence against women also continues, despite the introduction of several positive measures, including legal reforms and the establishment of shelters for women fleeing abuse.

This report, based on extensive research conducted in the Kurdistan Region, includes many individual cases. It highlights the progress made by the Kurdish authorities, including the release of most long-term and political detainees, but shows that many other measures are urgently needed to ensure that the human rights of all those living in the Kurdistan Region are respected and protected.