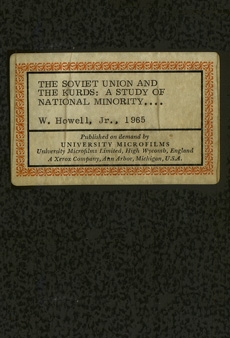 Wilson Nathaniel Howell

The Soviet Union and the Kurds, a study of national minority

University of Michigan

INTRODUCTION

The Kurdish problem gives every indication of remaining a major factor in the chronic instability of the Middle East. A final solution to the difficulties presented by this significant minority and its unrealized aspirations is no closer today than it was at the conclusion of World War I. The most recent manifestation of Kurdish discontent - the four-year-old uprising led by Mullah Mustafa Barzani in Iraqi Kurdistan - has, in fact, exhibited a degree of unity and resiliency absent in previous Kurdish revolts. Despite differences of opinion within the Kurdish leadership and the strenuous efforts of three successive Iraqi regimes to dislodge and defeat the insurgents, Mullah Mustafa's forces are in effective control of a substantial area in northern Iraq. Recent reports on the situation in this region, moreover, indicate the real possibility that armed ...