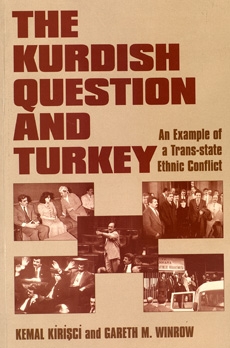 The Kurdish question and Turkey: An example of a trans-state ethnic conflict

Kemal Kirişçi and Gareth M. Winrow

Frank Cass

This book provides a comprehensive examination of the Kurdish question in Turkey, tracing its developments from the end of the Ottoman Empire to the present day. The origins and evolution of the Kurdish question are discussed through a close examination of events immediately before and after the founding of the republic of Turkey, when Atatürk and his supporters were confronted with the dual task of building a nation and a modern state. The historical narrative and analysis runs up to the 1990s and focuses on the recent acknowledgement by certain key politicians in Turkey of a 'Kurdish reality'. However, in order to acquire a better understanding of the Kurdish question in Turkey, the regional context must also be taken into account. It is a trans-state ethnic conflict and PKK forces, which are active in Turkey and aim to establish an independent Kurdish state through violent means, have been able to find sanctuary, especially in northern Iraq in Kurdish-populated areas.

Unlike many other works, which have focused on the Kurds, the authors develop their argument by defining and making use of terms such as nation, ethnic group, civic nationalism, ethnic nationalism, minority rights and self-determination. Many commentators agree that ethnic conflict should be resolved by a 'political' rather than a military solution; but what would a political solution to the Kurdish question in Turkey actually entail? A number of possibilities are examined including: secession, federal schemes, the granting of various forms of autonomy, the provision of special rights and further democratization.
.....